We have over 215 students who are getting 10 years free education and 150 to 300  women receive skills training from our center every year (there were not as many in 2020-2022 because of Covid and other reasons) 
We offer them not only general education but also the following:
Art classes
Beauty Parlor
Physical Education
Health Education
Environmental Education
Fashion Design 
Computer/ IT Skills and Training
English Language
Human Rights
Stitching Center
Art class with Malee Kenworthy from USA
ART CLASS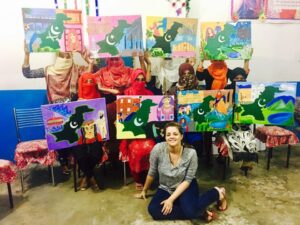 Malee Kenworthy has been teaching art classes to the girls for almost 3 years now. She has taught them the basics of drawing as well as about colors. When she visited Pakistan in 2016 she did a painting with the girls and it was their first painting ever! Since then they have completed two more paintings and have plans to paint more. We are excited here at Zeph center for these classes every week.
Malee's art is not only teaching them but changing their lives, here is an example of a girl whose life was changed:
Beauty Training Salon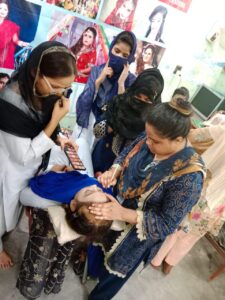 Annually 36 young women receive beauty training and skills so they can open their own beauty parlor business. This empowers them financially and helps them provide for their families.
IT Classes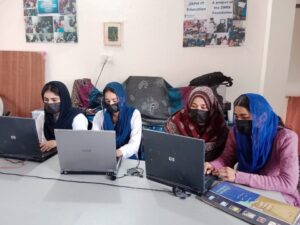 36 young women take IT classes Annually and become a part of the global village. Our students are working in different sectors and different organization in Pakistan. They are HR managers, administrators, have small businesses, teachers and are educating other women.
English
We do believe that English is a language of knowledge therefore we offer English learning courses to our students. Annually 36 women and girls learn speaking, writing, listening and reading of the English language.
Environmental Education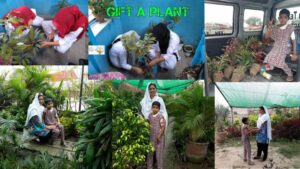 Pakistan currently faces these environmental issues and we are raising awareness to our students regarding these issues: water pollution from raw sewage, industrial wastes, and agricultural runoff; limited natural fresh water resources; most of the population does not have access to potable water; deforestation; soil erosion; desertification
General Education
More than 50% of girls in Pakistan are deprived of Education. Here at Zeph center, we provide them 12 years of free education. Our students are college and university students and they are getting professional degrees after they graduate from Zeph Center. They also have jobs and careers ahead of them after leaving the center. We have taught hundreds of girls during the past 20 years.
Health Education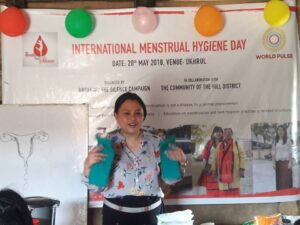 Our friend from India, Urmilla Churnam, an award winning human rights activist gives health education to our girls. She teaches them about menstrual hygiene, hepatitis, cleanliness and maternal health. She teaches this alongside Sister Zeph through skype to the adolescences at school and young women at our skills center.
Stitching Center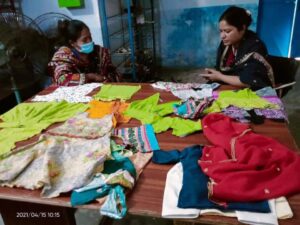 Annually 100 women receive stitching skills and training so they can provide for their families and have their own stitching/ clothing businesses.
Human Rights
Like many other developing countries women in Pakistan are deprived of their fundamental rights but women are equal human beings and they should be treated equal. At Zeph Center Sister Zeph and the team talk to the women about their rights. We also listen to their stories and what they go through and offer them counsel.
Human Rights Concerns
Amnesty International has long been concerned about the persistent pattern human rights violations occurring in Pakistan. Arbitrary detention, torture, deaths in custody, forced disappearances, and extrajudicial execution are rampant. The government of Pakistan has failed to protect individuals – particularly women, religious minorities and children – from violence and other human rights abuses committed in the home, in the community, and while in legal custody. It has failed to ensure legal redress after violations have occurred. In addition, Pakistan continues to impose the death penalty on persons convicted of crimes.
Since 9-11, individuals suspected of having links with "terrorist" organizations have been arbitrarily detained, denied access to lawyers, and turned over to U.S. custody or to the custody of their home country in violation of local and international law.
Recent military operations in North West Frontier Province, the Swat Valley and Waziristan, have resulted in the death and injury of civilians and the displacement of over two million people.
Armed groups, including Pakistani Taleban have committed serious human rights abuses, including direct attacks on civilians, abduction, and hostage-taking, torture, and killings. Women and girls are frequent targets of abuse.
https://www.amnestyusa.org/countries/pakistan/
Women's and Girls' Rights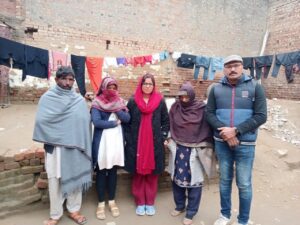 ABOVE: This young girl pictured next to Sister Zeph was raped last year. She was just in 4th standard (12 years old). Both of her parents are brick workers and are therefore poor and disadvantaged. Because of the rape her and her family had to leave the village. This is all too common in certain parts of the world. 

Child marriage remains a serious concern in Pakistan, with 21 percent of girls marrying before the age of 18. In January 2016, a proposal submitted to parliament by WHOM aimed to raise the legal minimum age to 18 for females and introduce harsher penalties for those who arrange child marriage. However, on January 14, 2016, the proposal was withdrawn following strong pressure from the Council of Islamic Ideology, a body that advises the parliament on Islamic law. The council criticized the proposal as "anti-Islamic" and "blasphemous."
Violence against women and girls—including rape, murder through so-called honor killings, acid attacks, domestic violence, and forced marriage—remained routine. Pakistani human rights NGOs estimate that there are about 1,000 "honor killings" every year.
The government continued to fail to address forced conversions of women belonging to Hindu and Christian communities.
In June, Zeenat Rafiq, 18, was burned to death in Lahore by her mother for "bringing shame to the family" by marrying a man of her choosing. In May, family members tortured and burned to death a 19-year-old school teacher in Murree, Punjab, for refusing an arranged marriage. In May, the body of Amber, 16, was found inside a vehicle that had been set on fire in Abbottabad, Khyber Pakhtunkhwa, after a jirga, or traditional assembly of elders, ordered her death for helping her friend marry of her own choice. In July, Qandeel Baloch, a well-known Pakistani model was killed by her brother in a so-called honor killing.
Pakistani law allows the family of a murder victim to pardon the perpetrator. This practice is often used in cases of "honor" killings, where the victim and perpetrator frequently belong to the same family, in order to evade prosecution. The 2004 Criminal Law (Amendment) Act made "honor killings" a criminal offense, but the law remains poorly enforced. An anti-honor killing bill seeking to eliminate the option of murder committed in the name of "honor" to be "forgiven" was passed by the parliament in October.
Children's Rights
Use of child suicide bombers by the Taliban and other armed groups continued in 2016.
In May, the United Nations Committee on the Rights of the Child concluded its review of Pakistan and expressed concern about a number of issues affecting children including executions, the impact of sectarian violence and terrorism, and alleged torture and ill-treatment in police custody.
https://www.hrw.org/world-report/2017/country-chapters/pakistan
Physical Education/ Self Defense
Here at Zeph Center we believe in not only teaching the girls and young women about physical education but also about how to protect and defend themselves. If you see the statistics in Pakistan, you will see that most households experience violence and women are taught that violence, especially against women, is acceptable. We teach them that this is not acceptable and to stand up for themselves.
Help us Continue to Empower Women and Children
Donate today and help us continue to empower, uplift and educate women and children!